June 9, 2020
Promoting diversity in STEM at the Byrd Center
Image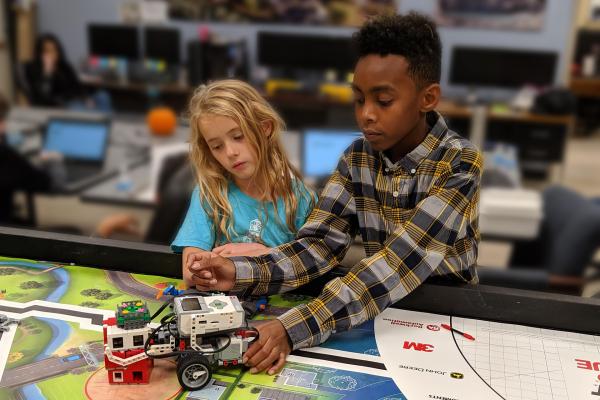 Description
So, just what does it take to make a positive impact on the lack of diversity in STEM (Science, Technology, Engineering and Mathematics) fields?
First Lego League Team at the Byrd Center
We at the Byrd Polar and Climate Research Center find inspiration from the team-oriented resilience of flightless aquatic birds of the Antarctic. Powerful creativity and learning are unleashed when a "waddle" of kids gather to seek innovative solutions to real-world problems, and then design, build, and program competitive, autonomous robots from Legos.
The Penguins are a team of Columbus public school kids from 9-13 yrs. old that have had fun working hard every Friday night at the Byrd Center in STEM enhancing skills of robot engineering and research as part of a FIRST Lego League (FLL) team.  Byrd has been sponsoring a FLL team since 2012. This year we had a rookie team comprised of eight kids ranging from 9-13, with all but one being new.  Coached and mentored by a crew of Byrd volunteers, including Systems Manager Tom Kassebaum (Coach T), faculty member Bryan Mark (Coach B), OSU student, Chester Folck, Education & Outreach Program Coordinator Karina Peggau, and Penguin dad Alex Dukat (Coach A), the Penguins recently completed their 2019-20 competitions. We would like to extend our gratitude to Byrd Polar for the sponsorship and support, and are proud to share some details and a few photos from the season.
The FLL theme this year was, "City Shaper," and our young engineers were challenged to consider how they might use creative innovation to build a better world, starting in their own city of Columbus. After researching a wide range of problems facing our city, the Penguins focused their attention on two issues, flooding and pollution.
The students learned from experts within the OSU community, and hosted several to talk about their research at the Byrd Center. These outstanding OSU researchers and engineering leaders were inspiring to learn from, and they each shared about their personal educational pathway.
Professor and Department Chair from Civil and Environmental Engineering, Dr. Allison MacKay, taught about the pollution from storm water and explained the Blueprint Columbus Project to minimize the need for storm water storage by increasing infiltration.
Dr. Apoorva Shastry, OSU Postdoc from the Water Cycle research group at Byrd, shared about flooding and hydraulic engineering.
Professor Karen Mancl, Professor of Food, Agricultural and Biological Engineering and Water Quality Specialist, explained the process and biology of waste water treatment.
Inspired to tackle this challenge, the Penguins proceeded to research an innovative solution in the form of porous cement. They even found a recipe and made some as a prototype! They tested it by making a batch of standard cement, too, in order to compare infiltration rates. It was fascinating to think how infiltration not only slows the storm water, reducing needs for storage, but actually provides ways to filter and clean the water with biofilms that accumulate on grains of sand.  The Penguins then had to pull their research, solution description, and prototype together into a 5 minute presentation to show the judges at the competition. This year, our team was not shy, and we had fun scripting and enacting a skit to accompany a research poster and demonstration of the porous cement.
All fall semester and over the holidays, the Penguins had a full sized competition game board set up in Coach B's lab space at Byrd. This is where the engineering finds a focus in competitive robots; many students find the most exciting part of the FLL competitions to be the competitive robotic game. Using the programmable EV3 'brick' as the brains, the team had to design, build and program a mobile robot capable of completing as many missions as possible within the 2.5 minutes of game time. The key is that the robot must be autonomous, and operate without being touched after it leaves "base." Any Lego piece and combinations of sensors and up to 4 motors are permitted. As a new team, we had lots to learn, and one of the key core values is that we learn together, so that the coaches don't tell the kids what to do. (Just as well that Coach B is a clueless programmer!?!)  Any programmers reading this who would like to volunteer, please contact Bryan.
Every FLL team is entitled to at least one competition, and only the top 25% of participating teams are able to qualify for final tournaments.   The Penguins just recently finished their season after the Dublin FLL District tournament on Jan 11, 2020. They were excited to have "waddled on" to this tournament after qualifying at their first competition on Nov. 23 at Grandview Middle School.  Our team was recognized with a couple of rewards, including the "Inspiration" award for exemplifying positive outward focus and enthusiasm in encouraging other teams.
-submitted by Dr. Bryan Mark (Coach B)
---