Image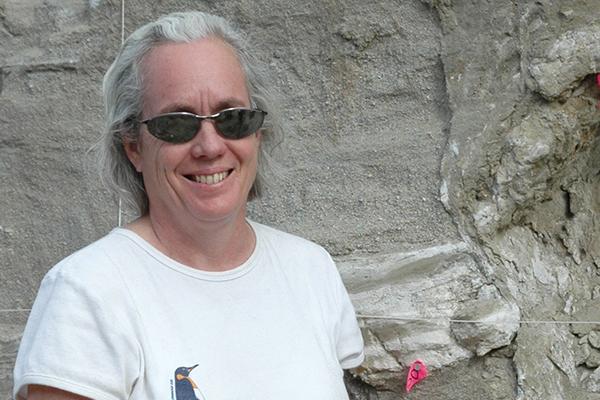 April 15, 2021
5:30PM - 6:30PM
Date Range
Add to Calendar
2021-04-15 17:30:00
2021-04-15 18:30:00
S.T. Lee Lecture 2021 | Weighing the Antarctic Ice Sheet: A Decade of Geophysical Imaging
Byrd Center Researcher, Professor Emerita Terry Wilson will present Weighing the Antarctic Ice Sheet: A Decade of Geophysical Imaging at the 18th annual S.T. Lee Lecture in Antarctic Studies. Register by April 6, 2021 at wgtn.ac.nz » Synopsis of lecture In West Antarctica, the vast ice sheet is shrinking at an accelerating rate, adding to global sea-level rise. Much research is focused on documenting the response of the Antarctic ice sheet to sustained climate and ocean warming. A novel approach to understanding the loss of Antarctic ice comes from measuring the rate and pattern of bedrock deformation as the melting ice sheet 'loses weight'. The solid earth both flexes and flows as the ice sheet size fluctuates, a process called 'glacial isostatic adjustment'. Measuring the solid Earth motions as it deforms using geodesy, and scanning the deep earth underlying the ice using seismology, provides us with a geophysical 'scale' to monitor weight change in the Antarctic ice sheet. We now recognize that the changing shape of the deforming bedrock can alter how the ice sheet flows and how much ice is discharged to the surrounding oceans. Under certain conditions, these 'negative feedbacks' can stabilize ice sheet retreat and slow sea-level rise. In this lecture, Terry will explain how ice sheets are coupled with bedrock below, provide an overview of surprising observations on the deforming earth in Antarctica, and explore implications for the future of the Antarctic ice sheet and global sea level. View full event details and register at wgtn.ac.nz »  
Zoom
OSU ASC Drupal 8
ascwebservices@osu.edu
America/New_York
public
Date Range
Add to Calendar
2021-04-15 17:30:00
2021-04-15 18:30:00
S.T. Lee Lecture 2021 | Weighing the Antarctic Ice Sheet: A Decade of Geophysical Imaging
Byrd Center Researcher, Professor Emerita Terry Wilson will present Weighing the Antarctic Ice Sheet: A Decade of Geophysical Imaging at the 18th annual S.T. Lee Lecture in Antarctic Studies. Register by April 6, 2021 at wgtn.ac.nz » Synopsis of lecture In West Antarctica, the vast ice sheet is shrinking at an accelerating rate, adding to global sea-level rise. Much research is focused on documenting the response of the Antarctic ice sheet to sustained climate and ocean warming. A novel approach to understanding the loss of Antarctic ice comes from measuring the rate and pattern of bedrock deformation as the melting ice sheet 'loses weight'. The solid earth both flexes and flows as the ice sheet size fluctuates, a process called 'glacial isostatic adjustment'. Measuring the solid Earth motions as it deforms using geodesy, and scanning the deep earth underlying the ice using seismology, provides us with a geophysical 'scale' to monitor weight change in the Antarctic ice sheet. We now recognize that the changing shape of the deforming bedrock can alter how the ice sheet flows and how much ice is discharged to the surrounding oceans. Under certain conditions, these 'negative feedbacks' can stabilize ice sheet retreat and slow sea-level rise. In this lecture, Terry will explain how ice sheets are coupled with bedrock below, provide an overview of surprising observations on the deforming earth in Antarctica, and explore implications for the future of the Antarctic ice sheet and global sea level. View full event details and register at wgtn.ac.nz »  
Zoom
Byrd Polar and Climate Research Center
byrd-contact@osu.edu
America/New_York
public
Description
Byrd Center Researcher, Professor Emerita Terry Wilson will present Weighing the Antarctic Ice Sheet: A Decade of Geophysical Imaging at the 18th annual S.T. Lee Lecture in Antarctic Studies.
Register by April 6, 2021 at wgtn.ac.nz »
Synopsis of lecture
In West Antarctica, the vast ice sheet is shrinking at an accelerating rate, adding to global sea-level rise. Much research is focused on documenting the response of the Antarctic ice sheet to sustained climate and ocean warming. A novel approach to understanding the loss of Antarctic ice comes from measuring the rate and pattern of bedrock deformation as the melting ice sheet 'loses weight'. The solid earth both flexes and flows as the ice sheet size fluctuates, a process called 'glacial isostatic adjustment'. Measuring the solid Earth motions as it deforms using geodesy, and scanning the deep earth underlying the ice using seismology, provides us with a geophysical 'scale' to monitor weight change in the Antarctic ice sheet. We now recognize that the changing shape of the deforming bedrock can alter how the ice sheet flows and how much ice is discharged to the surrounding oceans. Under certain conditions, these 'negative feedbacks' can stabilize ice sheet retreat and slow sea-level rise.
In this lecture, Terry will explain how ice sheets are coupled with bedrock below, provide an overview of surprising observations on the deforming earth in Antarctica, and explore implications for the future of the Antarctic ice sheet and global sea level.
---
View full event details and register at wgtn.ac.nz »
---