— HISTORY CORNER —
How did the first all-woman scientific team from the United States come to work in Antarctica?
Front row, left to right: Pam Young, Jean Pearson, Terry Tickhill, RADM David "Kelly" Welch, Lois Jones, Eileen McSaveney, Kay Lindsay. Back row, left to right: unidentified, Lt. Jon Clarke

Today it is commonplace for women to conduct fieldwork in Antarctica and to work with their male colleagues in the field. However, that has not always been the case. In 1969 researchers from the Institute of Polar Studies (now called the Byrd Polar and Climate Research Center) at The Ohio State University comprised the first U.S. all-woman scientific team to work in Antarctica. The team members were Dr. Lois M. Jones, the leader of the party, Kay L. Lindsay, Eileen McSaveney and Terry Lee Tickhill. Kay Lindsay was an entomologist, Eileen McSaveney was a geologist and Terry Tickhill was an undergraduate chemistry major. Terry's presentation about the expedition, given at OSU in November 2015, can be viewed at 
vimeo.com/147969386
 and an article written by Alaina Bartel, an undergraduate student, during Terry's visit to campus can be found at 
go.osu.edu/1969expedition
.
Dr. Jones, a geochemist, worked on geological samples from the Dry Valleys in Antarctica for her 1969 PhD dissertation, The Application of Strontium Isotopes as Natural Tracers: the Origin of the Salts in the Lakes and Soils of Southern Victoria Land, Antarctica. A report based on Jones' dissertation research is available in OSU's institutional repository, the Knowledge Bank at http://hdl.handle.net/1811/55686. The samples and data she used for her dissertation were provided by her male colleagues at the Institute of Polar Studies. She wanted to continue to investigate another problem related to the salt content of the lakes in the Dry Valleys. Her goal was to collect bedrock samples and rock specimens from the river that flows into Lake Vanda. She felt that she could not continue her analysis unless she conducted her own field work and collected the physical samples. 
At that time, rumors were circulating that the U.S. Antarctic Program was considering allowing women to work in Antarctica, so the timing was right. Dr. Colin Bull, then the director of the Institute, was instrumental in securing the women's opportunity to go to Antarctica and conduct field work there. With Dr. Bull's backing, Jones submitted a detailed research proposal to the National Science Foundation. Her proposal was funded -- provided that all of her team members were women. With some skepticism, the U.S. Navy agreed to take the research team to Antarctica. The team was very successful and returned to the Institute of Polar Studies to analyze their data and rock specimens and publish their findings.
The Institute of Polar Studies' all-woman scientific team in Antarctica was historic and as such their trip to Antarctica was documented in several newspaper articles and later in books written about women in Antarctica. They were interviewed before they left for Antarctica, interviewed when they arrived in Antarctica, and then interviewed again when they returned home.  In 2009, Peter Rejcek, an editor for The Antarctic Sun, wrote a feature article, Breaking the Ice, about the expedition. Unfortunately, Dr. Jones passed away in 2000, and Dr. Lindsay passed away in 2001. However, Rejcek interviewed Dr. Bull and the two surviving team members, Terry Lee Tickhill Terrell and Eileen McSaveney. The article is available online: http://antarcticsun.usap.gov/features/contentHandler.cfm?id=1946
After Dr. Jones' death, her estate donated her extensive slide collection to the Byrd Center which includes images from the 1969 expedition. This collection was transferred to the Polar Archival Program in 2013. Information about her slides is available online: http://ead.ohiolink.edu/xtf-ead/view?docId=ead/OhCoUBP0023.xml;chunk.id=headerlink;brand=default
Written by Laura Kissel, Polar Curator, and Lynn Lay, Goldthwait Polar Librarian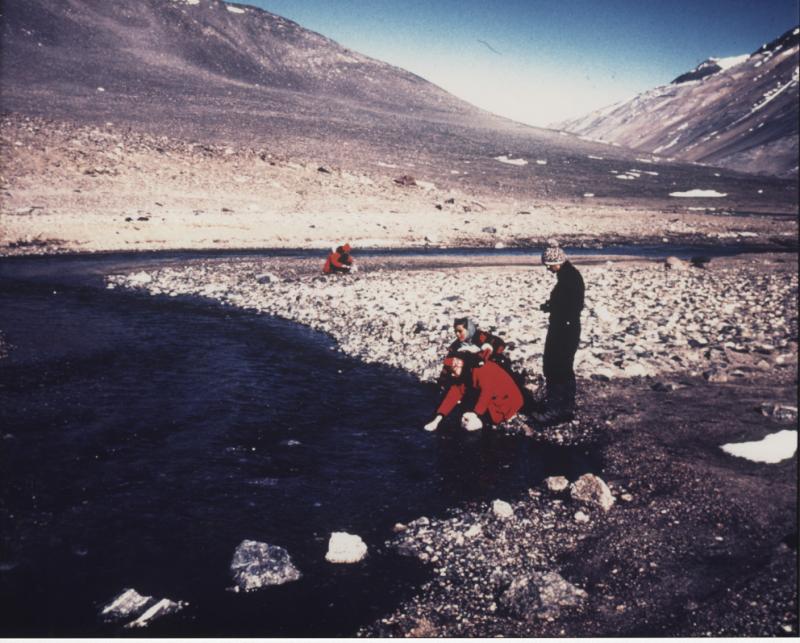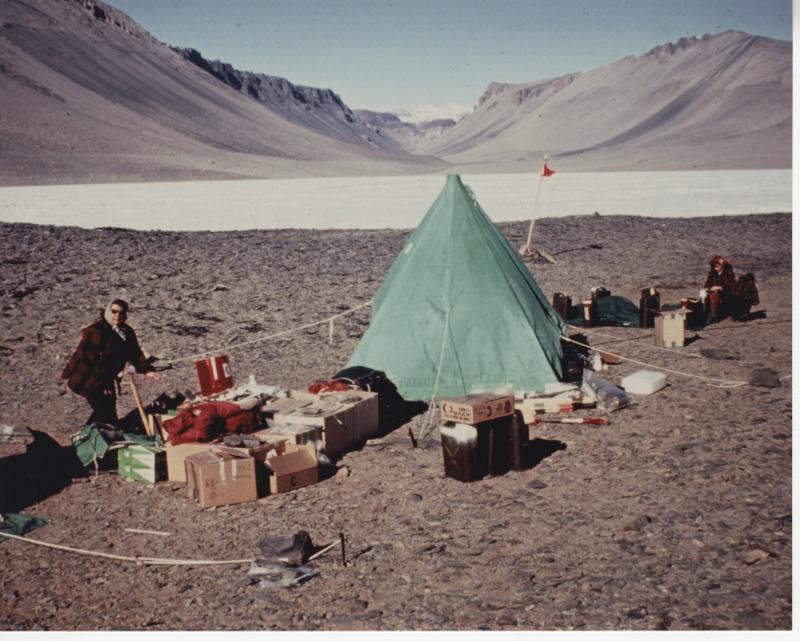 A Select Bibliography and Resources about Women in Antarctica
Blackadder, Jesse. The first woman in Antarctica. Australian Antarctic Magazine, Issue 23, December 2012, https://www.antarctica.gov.au/magazine/issue-23-december-2012/antarctic-arts-fellowship/the-first-woman-in-antarctica/
Chipman, Elizabeth. Women on the Ice: A History of Women in the Far South. Carlton, Victoria, Melbourne University Press, 1986.
Cimons, Marlene. LiveScience.com: Behind the Scenes: The First Women in Antarctica: https://www.nsf.gov/discoveries/disc_summ.jsp?cntn_id=116134
Darlington, Jennie. My Antarctic Honeymoon: A Year at the Bottom of the World. Garden City, New York, Doubleday, 1956.
Land, Barbara. The New Explorers: Women in Antarctica. New York, Dodd Mead, 1981.
Myers, Joan. Wondrous Cold: An Antarctic Journey. Washington, D.C., Smithsonian Institution, 2006.
Ronne, Edith M. (Jackie). Antarctica's First Lady: Memoirs of the First American Woman to Set Foot on the Antarctic Continent and Winter-Over. Beaumont,Texas, Clifton Steamboat Museum and Three Rivers Council #578 Boy Scouts of America, 2006.
Rothblum, Ester D., Jacqueline S. Weinstock and Jessica F. Morris, editors. Women in the Antarctic. New York, Haworth Press, 1998.
Walker, Gabrielle. Antarctica: An Intimate Portrait of a Mysterious Continent. Boston, Houghton Mifflin Harcourt, 2013.
Women in Antarctica website: http://womeninantarctica.com/