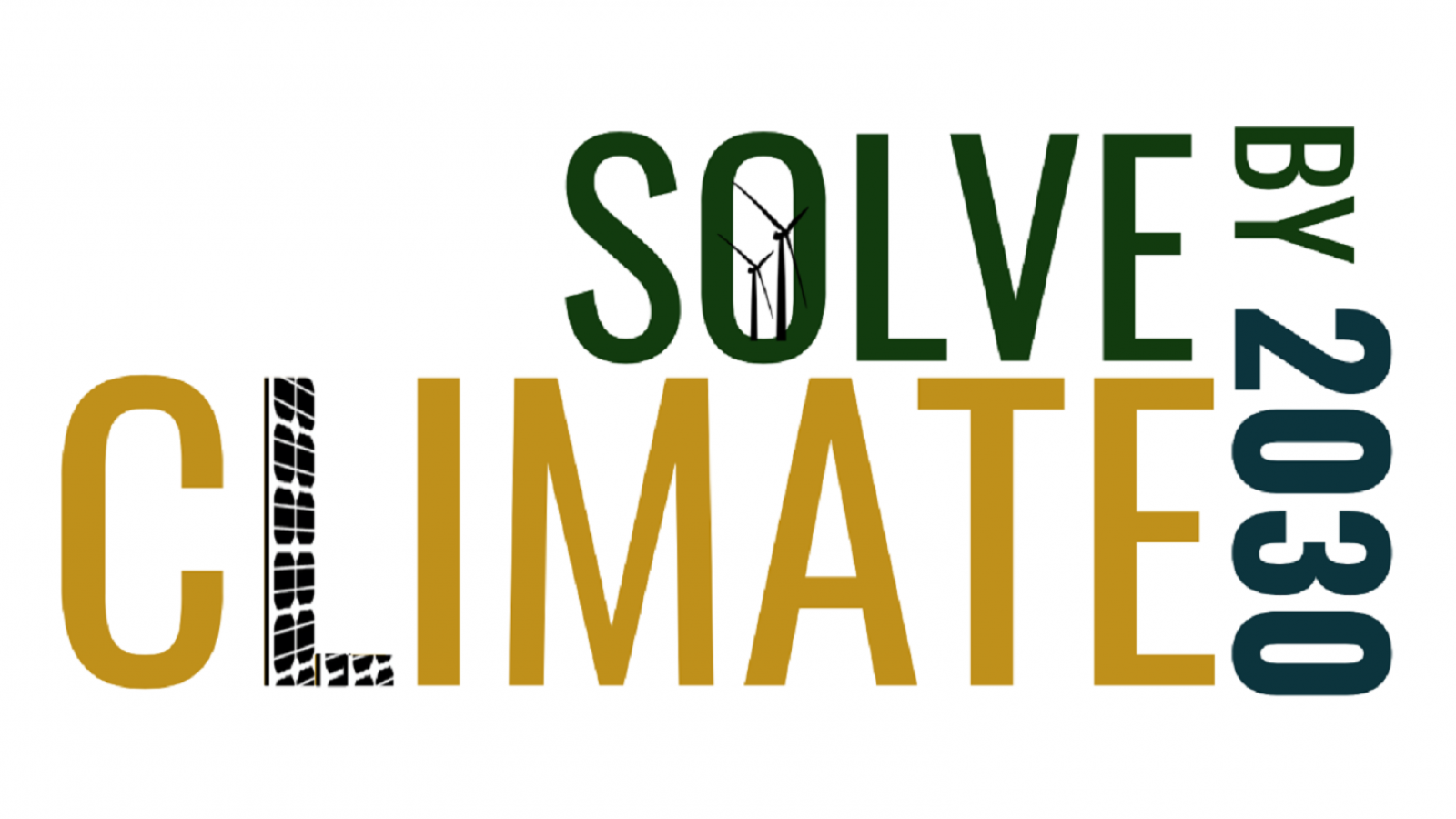 Advanced
Text
Please note: the information on this page is for our March 2022 event. Please check back in early 2023 for information on the next Solve Climate by 2030 event. Contact Karina Peggau at peggau.1@osu.edu with questions.
Calling all Climate-Concerned Educators, Students and Community Members! On March 30, 2022, over 1,000 Colleges, Universities, High Schools and K-8 schools worldwide will engage over half a million people in a one-day Teach-In on climate solutions and justice in the transition. Faith groups, civic organizations and businesses can participate too.
Join the Byrd Polar and Climate Research Center and Ohio State Sustainability Institute to hear from a number of OSU faculty as they discuss climate change through a multidisciplinary lens in a "flash talk" format. Each talk will cover climate change challenges, impacts, or solutions through unique perspectives, such as art, geography, psychology, or agriculture. This event is geared towards educators and students but is open to anyone interested in learning more.
Text
Why 2030?

The world's top climate scientists have told us we have a ten-year window to make rapid reductions in the carbon pollution causing global warming in order to hold the warming to the low end of under 3 degrees F. If we don't, we will severely destabilize the global climate, leading to extreme weather, droughts, floods and sea-level rise that will be increasingly hard for humans to manage. 
University and high school students across the planet, along with civil society, faith organizations and businesses, will tune into 100 events in fifty countries, university-hosted regional webinars critical to our future. How can a multidisciplinary approach put us on the way to solving climate change by 2030? Climate-concerned university and high school faculty worldwide, and across disciplines, will assign these webinars as homework, using them as a springboard for discussing climate justice, human response to climate change, and climate solutions.  Attend the 2022 webinar and use it to #MakeClimateAClass. 
Contact
For more info, contact Karina Peggau at peggau.1@osu.edu
Text
---
Agenda
5:00 PM - 5:15 PM EST: Introduction
5:15 PM - 6 PM EST: Session 1
Break
6:10 PM - 6:50 PM EST: Session 2
6:50 PM - 7:25 PM EST: Session 3
7:25 PM - 7:30 PM EST:  Final Remarks
---
Panelists
Dr. Ard explores how social processes create and sustain environmental inequalities by race and class and how these unequal exposures are linked to health disparities. She uses sociological concepts to understand the issues of social inequality and the environment. Dr. Ard's work covers the arc of environmental inequality from an investigation into its political causes to its ultimate consequences of social disparities in health outcomes. At the foundation of her work is a perspective that scholars need to bring the insights from the field of sociology to bear on the causes of environmental risk and resulting effects on health. Current research provides little doubt that pollution is unequally distributed by race and class. Future research in this field needs to work toward gaining insight into actionable social and political areas that are at the core of these inequalities. In all of her research Dr. Ard's goal is to uncover the political leverage points that will address social inequalities. 
Dr. Jeremy Brooks is an interdisciplinary environmental social scientist who draws from multiple disciplinary perspectives to study biodiversity conservation, sustainable development, and sustainable consumption in domestic and international contexts. His goal is to make a small contribution to our understanding of what a more sustainable world might look like and how we can get there. To that end, he is broadly interested in (i) understanding the factors and conditions that support the adoption of conservation behaviors, (ii) the dynamics of social-ecological systems, and (iii) the emergence and spread of norms and institutions that support more sustainable resource use and consumption patterns.
Dr. Michael Charles recently earned his Ph.D. in Chemical and Biomolecular Engineering at The Ohio State University and is a current postdoctoral researcher at the Newark Earthworks Center. His areas of expertise are in sustainable engineering and design along with community engagement, specifically with Indigenous peoples. He is Diné, a citizen of the Navajo Nation, and serves as an active member of the International Indigenous Peoples Forum on Climate Change. His postdoctoral work centers around land grant universities and their connection to the displacement of Native Americans, associated impacts on food sovereignty, and the experiences of today's "urban Indians" of Ohio.
Dr. Elmore earned his B.A. in history from Dartmouth College in 2004 , his M.A. (2007), and Ph.D. (2012) from the University of Virginia, specializing in global environmental history and American history. In 2012, he accepted the Ciriacy-Wantrup Postdoctoral Fellowship in Natural Resource Economics and Political Economy at the University of California, Berkeley. He then served three years as Assistant Professor in the Department of History at the University of Alabama beginning in 2013 and helped start the department's environmental history program before joining the OSU faculty in 2016. He was an Eric and Wendy Schmidt Fellow at New America in 2017-2018. 
Dr. Miteva is an environmental economist working primarily on conservation and sustainability issues in developing countries. Combining a microeconomic framework with theory and tools from ecology and biogeography, her research focuses on understanding the drivers of landscape change, quantifying the impacts on ecosystems and human welfare, and evaluating policies like protected areas and Forest Sustainability Council (FSC) certification. Dr. Miteva received her PhD from Duke University (NC) and a dual BA in Biology and Economics from Bryn Mawr College (PA). 
Dr. Zoë Plakias is interested in all facets of the contemporary food system. She is currently conducting research on food product reformulation, food security in rural southeast Ohio, cannabis markets in California, and emergency management in food systems. She teaches courses on benefit-cost analysis and principles of food and resource economics. Dr. Plakias is a faculty affiliate of the InFACT Discovery Theme and the Sustainability Institute and serves on the Executive Leadership Board of the STEAM Factory. 
Roman currently serves as the Arts Scholars Program Manager at The Ohio State University and enjoys exploring interdisciplinary opportunities involving the arts. Prior to working at Ohio State, he earned his Master of Public Administration with a focus in Environmental Sustainability at Ohio University. His studies helped cultivate an interest in this area and has inspired him to incorporate sustainability themes within Arts Scholars. During his time at OU, he was fortunate to perform with international touring company, Azaguno, which aims to educate and preserve traditional and contemporary African, Caribbean, and Latin American music and dance.
Mr. David Wirt, M.Ed., LPCC-S is a clinical counselor with The Ohio State University's Counseling and Consultation Service. David has worked for Ohio State since 2011 both at the main campus of Ohio State, and at Ohio State's regional campus in Newark, Ohio providing mental health services to our students. Prior to joining Ohio State, David worked for community mental health services and in private practice in Columbus, Ohio. In January 2019, David became the first embedded counselor to work at the College of Food, Agricultural, and Environmental Sciences at Ohio State. David holds a Bachelor of Science in Psychology from The Ohio State University and a Master of Science in Education with completion in the program for Clinical Counseling from The University of Dayton. 
More panelists to be announced soon...
Moderator:
Maria Scaccia, Undergraduate Intern, Byrd Polar and Climate Research Center
Event sponsors:
---
Accordion Header

Past Events
Text
The Byrd Polar and Climate Research Center participated in a nationwide event designed to identify climate solutions by 2030. Three panelists from Ohio discussed various challenges in the state as they pertain to climate change, environmental justice, and renewable energy. Panelists included Dr. Bryan Mark, Dr. Mark Shanahan, and Ann Baughman.
Text
April 6, 2021 - Topics include climate solutions, a green recovery, and a just transition. Speakers are Joe Flarida, Executive Director, Power a Clean Future Ohio; Kerry Ard, Associate Professor, School of Environment and Natural Resources, Ohio State University; and J.M. Rayburn, Planner for City of Dublin & realtor at RE/MAX Revealty. 
Text
Join the Byrd Polar and Climate Research Center and Ohio State Sustainability Institute to hear from a number of OSU faculty as they discuss climate change through a multidisciplinary lens in a "flash talk" format. Speakers Include: Kerry Ard, Jeremy Brooks, Michael Charles, Graham Dixon, Bart Elmore, Daniela Miteva, Zoe Plakias, Roma Suer, and David Wirt.