Image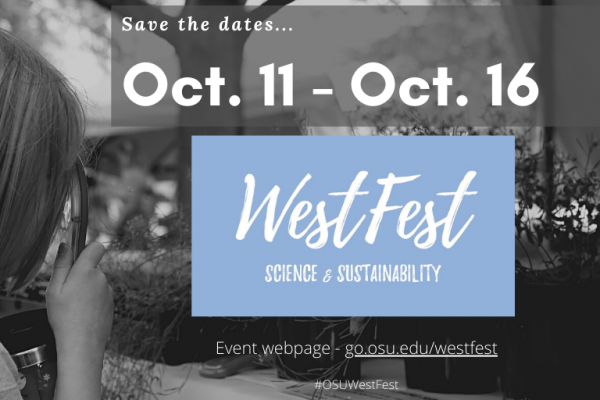 October 11 - October 16, 2021
3:00PM - 3:00PM
Date Range
Add to Calendar
2021-10-11 15:00:00
2021-10-16 15:00:00
WestFest: Science and Sustainability Festival
WestFest: Science and Sustainability Festival WestFest, the science and sustainability festival hosted by the STEM Impact Collaborative at The Ohio State University together with partners across campus and throughout the Central Ohio community, will take place Monday, October 11th through Saturday, October 16th. We are excited to bring together a six-day virtual event in 2021 - with programs for youth, families, and adults. This year will feature an event passport, available both online and at local libraries. Youth can attend virtual events, complete four passport challenges, and submit their passport to be entered to win WestFest prizes.  Thanks to funding from the Ohio State Energy Partners, a limited supply of free take-home activity kits will beavailable at local libraries and through community partners. The event schedule, registration information, event passport, and details about where you can pick-up and activity kit are available online at go.osu.edu/Westfest. Live captioning will be provided for all virtual WestFest events. If you require additional accommodations, such as interpretation, to participate in any events please contact westfest@osu.edu. Feel free to download and distribute the 2021 WestFest flyer (PDF)   
Online
OSU ASC Drupal 8
ascwebservices@osu.edu
America/New_York
public
Date Range
Add to Calendar
2021-10-11 15:00:00
2021-10-16 15:00:00
WestFest: Science and Sustainability Festival
WestFest: Science and Sustainability Festival WestFest, the science and sustainability festival hosted by the STEM Impact Collaborative at The Ohio State University together with partners across campus and throughout the Central Ohio community, will take place Monday, October 11th through Saturday, October 16th. We are excited to bring together a six-day virtual event in 2021 - with programs for youth, families, and adults. This year will feature an event passport, available both online and at local libraries. Youth can attend virtual events, complete four passport challenges, and submit their passport to be entered to win WestFest prizes.  Thanks to funding from the Ohio State Energy Partners, a limited supply of free take-home activity kits will beavailable at local libraries and through community partners. The event schedule, registration information, event passport, and details about where you can pick-up and activity kit are available online at go.osu.edu/Westfest. Live captioning will be provided for all virtual WestFest events. If you require additional accommodations, such as interpretation, to participate in any events please contact westfest@osu.edu.    
Online
Byrd Polar and Climate Research Center
byrd-contact@osu.edu
America/New_York
public
Description
WestFest: Science and Sustainability Festival
WestFest, the science and sustainability festival hosted by the STEM Impact Collaborative at The Ohio State University together with partners across campus and throughout the Central Ohio community, will take place Monday, October 11th through Saturday, October 16th. We are excited to bring together a six-day virtual event in 2021 - with programs for youth, families, and adults.
This year will feature an event passport, available both online and at local libraries. Youth can attend virtual events, complete four passport challenges, and submit their passport to be entered to win WestFest prizes.  Thanks to funding from the Ohio State Energy Partners, a limited supply of free take-home activity kits will beavailable at local libraries and through community partners.
The event schedule, registration information, event passport, and details about where you can pick-up and activity kit are available online at go.osu.edu/Westfest.
Live captioning will be provided for all virtual WestFest events. If you require additional accommodations, such as interpretation, to participate in any events please contact westfest@osu.edu.
---
---