September 19, 2014
Ice Sheets: Byrd Polar Outreach & Education – Summer 2014
Image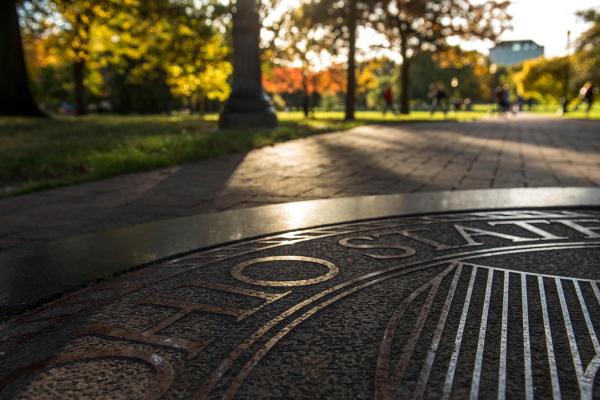 Description
Greetings,
BPRC fields a lot of telephone calls and e-mail requests for information about climate change. This summer, we spent some time organizing all of the resources that are available to various audiences. BPRC's Ellen Mosley-Thompson regularly updates a list geared toward adults that is posted online at http://tinyurl.com/puauer2. Cameron Roberts, an undergraduate student at BPRC, created a list of eight resources for elementary school teachers and parents of young children that is available at http://tinyurl.com/o57zj5s. One item on his list is a new short video series titled How Global Warming Works, available at http://www.howglobalwarmingworks.org and based on findings from climate change education research. The CLEAN collection, online at http://cleanet.org/index.html, and Teaching Climate at climate.gov, online at http://www.climate.gov/teaching, include resources for educators at all grade levels. Lastly, the Third National Climate Assessment, http://nca2014.globalchange.gov/, has an engaging web interface which makes the changing Earth system and regional impacts understandable to a non-technical audience.
The long and short is that there are many resources on climate change education, but matching the audience with appropriate resource is critical. If there are other resources that you have found helpful, please pass them along.
Regards,
Jason Cervenec
cervenec.1@osu.edu
---
Multimedia of Interest
Video Collected Using GoPro Cameras
During last year's Antarctic field season, POLENET's Erik Kendrick amassed an extensive collection of photos and video that BPRC's media specialist Pam Theodotou distilled into a movie trailer, available online at https://vimeo.com/92541102. Likewise, Santiago de la Peña captured video in Greenland, using two cameras mounted on a Twin Otter, and compressed the entire flight to his field site into seven minutes. Santiago's video is online at https://vimeo.com/100811583.
Discovery Lecture Films Preserved
The Polar Archival Program is pleased to report that the work on preservation of the Discovery Lecture Films, in the Richard E. Byrd Papers, has recently been completed by Cinema Arts, Newfoundland, PA. The preservation work was funded by a $32,000 grant from the National Film Preservation Foundation and involved the creation of new film elements, as well as Digital Betacam masters. For ease of access, we have also received DVD versions. Plans are underway for at least one screening event sometime in the coming year. Stay tuned for more information!
AGU Competition
AGU is advertising a contest for student designed t-shirts and video. Information is available online at membership.agu.org/students and submissions are accepted through September 2, 2014. Winners receive free registration to the 2014 AGU Fall Meeting.
Upcoming Events
Environmental Professionals Network Breakfast - Tuesday, September 9th
This month's breakfast, titled Challenges and Opportunities: Achieving Ohio's Clean Energy Potential, will be co-sponsored by BPRC and feature Kate Bartter, Interim Director, OSU Office of Energy and Environment; Ted Ford, President and CEO, Ohio Advanced Energy Economy; and Jack Shaner, Deputy Director, Ohio Environmental Council. The event will start at 7:30 a.m. at the 4-H Center. If you are interested in attending, please RSVP at epn.osu.edu.
External Advisory Board Meeting – Monday, September 15th and Tuesday, September 16th
The external advisory board will meet in Columbus in September to review progress on recommendations they provided the center in Spring of 2013. Ellen and Michele will be in touch with further information.
BPRC Family Fun Night – Wednesday, September 17th
BPRC will host the 2nd Annual Family Fun Night on September 17th from 4:30 - 6:30 p.m. with tours, activities for kids, and a BBQ. Members and their immediate family are welcome to attend. BPRC will provide the main dishes and drinks; please bring a side dish or dessert to share. RSVP to Lynn Everett (everett.2@osu.edu) before Friday, September 12, 2014.
BPRC Autumn Seminar – Thursday, September 25th
Dr. David L. Denlinger, Distinguished University Professor in OSU's Department of Entomology, will present Surviving in Antarctica: An Insect Perspective at 3:30 p.m. in the BPRC Learning Center, 177 Scott Hall. The talk will present Dr. Denlinger's recent research to sequence the genome of the only insect endemic to Antarctica. The abstract of the talk is provided below.
Although insects are among the dominant forms of life on most continents, only one insect, a wingless midge, Belgica antarctica, is endemic to Antarctica. The midge is locally abundant but has a patchy distribution along the Antarctic Peninsula. This insect has a remarkable set of adaptations allowing it to survive not only low temperatures, but also desiccation, UV radiation, and extremes of salinity and pH. This presentation will highlight the environment of the midge and the field site at Palmer Station and discuss our experimental results demonstrating physiological and molecular adaptations used by the midge to survive in this hostile environment. Our recent sequencing project indicates that this midge has the smallest genome yet described for an insect and opens new doors for discovery of mechanisms used by the midge for survival.
Wexner Center for the Arts Screening of The Epic of Everest – Friday, October 10th
The Epic of Everest is the official cinematic record of Britain's third attempt to climate the world's tallest mountain in 1924. The screening will begin at 7 p.m. in the Wexner Center for the Arts; tickets are $6 for members/students/seniors/BPRC members and $8 for the general public. (Note: Simply bring a business card or printout of the website directory to show you are with BPRC). Additional information is available online at http://wexarts.org/film-video/epic-everest
Earthkeeping Summit- Sunday, October 12th and Monday, October 13th
Ohio Interfaith Power & Light, a partner with BPRC on many climate change education events over the years, will host an Earthkeeping Summit this fall in Columbus. Speakers include Dr. Katharine Hayhoe, Dr. David Orr, and the Reverend Daniel Orr. Additional information and registration are online at http://www.ohipl.org/earthkeeping-summit-2014.
Climate Change & National Security Event – Thursday, October 16th
Due to severe weather last spring, U.S. Navy Rear Admiral Jonathan White and Franklin County Commissioner Paula Brooks were not able to speak at our Climate Change Impacts in Ohio event. In partnership with the Mershon Center for International Security Studies, BPRC is planning a fall event focused exclusively on climate change and national security. The event will feature Rear Admiral White and Commissioner Brooks in addition to a panel of experts. Please mark your calendars now.
Argument Writing & Primary Sources Workshop for Teachers – Friday, October 17th
In fall of 2012 and 2013, Education & Outreach partnered with Laura Kissel, Polar Curator, and David Staley, OSU History Professor, to host a half-day workshop on primary sources. Education & Outreach offered a 1-week workshop on argument writing for teachers of science, social studies, and English language arts in summer 2014. Due to the complementary nature of the two programs, we are offering a new program this fall during the Central Ohio teachers professional development day that will offer the essential elements of both workshops during a 1-day session. More information about the program and registration will soon be available on the BPRC Education & Outreach Blog.
BPRC Retreat - Tuesday, October 28th
The annual BPRC Retreat will be held on October 28th. To make it easier for members to attend, this year's event may be held in Scott Hall. More information will be provided in September.
Byrd Bites Brown Bags for Autumn Semester
All brown bags take place in the BPRC Learning Center (177 Scott Hall) at noon. This is a friendly environment to share your research or field experiences. Please e-mail cervenec.1@osu.edu if you would like to participate.
Wednesday, September 24th • Aaron Wilson
Improving the GRACE-measured mass balance of Antarctica with Polar WRF and GPS RO assimilation.

Friday, October 24th • Dongyue Li
Talk Title TBA

Tuesday, November 4th • Ollie Wigmore
Talk Title TBA

Thursday, November 20th • Santiago de la Peña
21st Century Melt Regimes Over the Greenland Ice Sheet Interior
COSI's Portal to the Public
COSI is conducting a new Portal to the Public cohort for researchers and graduate students interested in working with COSI team members to develop materials that communicate their work and careers to the general public. The cohort starts in November, consists of 5 sessions, and ends with a public event at COSI in February. Contact Jason at cervenec.1@osu.edu for more information.
Thank You's
Weather Station and Rooftop Camera
We would like to extend a big thank you to Betsy and Jeffrey Salt who donated funds for the purchase of a weather station and rooftop camera for Scott Hall in honor of their father, Charles F. Salt, Jr. Charles, who served in the United States Army Air Corps from 1943 to 1946, was trained as a meteorologist but continued to have a lifelong interest in meteorology beyond his time in the military. Charles worked for Battelle Memorial Institute and was a co-owner of Salt Brothers Hardware Company in Columbus. He passed away, at the age of 89, in October 2013.
Summer Workshops & Outreach Work
Education & Outreach would like to acknowledge the work of the administrative staff that helped prepare for and deliver two workshops this summer. This involved ordering books, arranging for parking, purchasing materials, contacting participants, setting up the learning center, ordering food, and extending some BPRC hospitality. Thank you Lynn Everett, Cameron Roberts, Ryan Cummings, Charmaine Koch, Lynn Lay, Michele Cook, Tom Kassebaum, and Wes Haines.
BPRC's Michael Durand and participants during the 1-week watersheds, computer modeling, and geosciences careers workshop held for educators in July 2014.
Newsletter
If you would like to add announcements, information, or photos to the newsletter, please e-mail them to cervenec.1@osu.edu.
IMPENDING DEADLINES…
Research Experiences for Undergraduates (REU) 13-542
Due 27 August 2014 ( FOR CURRENT RESEARCH ONLY!)
Geography and Spatial Sciences Program (GSS) 14-357
Due 4 September 2014
Paleo Perspectives on Climate Change (P2C2) 13-576
Due 15 October 2014
Arctic Research Opportunities 14-584
Due 21 October 2014
---