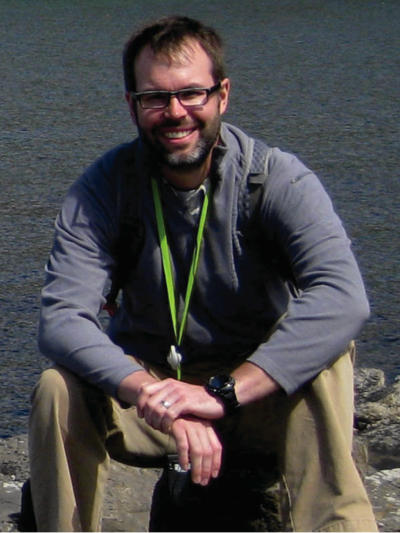 Jason Cervenec
Education and Outreach Director
135A Scott Hall
1090 Carmack Rd
Columbus OH, 43210
Areas of Expertise
Education and Outreach
Climate Change Resilience
Education
M.Ed., The Ohio State University (Secondary Science) 2001
B.S., The Ohio State University (Biology) 2000
Jason Cervenec is the Education and Outreach Director for the Byrd Polar and Climate Research Center at The Ohio State University. The diverse outreach portfolio of the Center reaches approximately 12,000 individuals annually and includes programs in cutting edge science, science education, history, and the arts. His team develops visualizations of geoscience data and research sites to make content more accessible. The most common request for information that Jason receives from the public is on climate change and his work includes convening climate resilience efforts in Central Ohio.
Jason earned a B.S. in Biology and M.Ed. in Secondary Science Education from The Ohio State University and began his career as a high school science teacher where he taught for more than a decade. During that time, he established two Science Olympiad teams and served as a lead instructor on an Ohio Board of Regents grant to train teachers in Modeling Instruction. In 2010, Jason took part in a Fulbright Teacher Exchange in Mumbai, India where he witnessed firsthand the challenges faced by most of the world's population. Jason and his wife have three children, enjoy hiking, and recently rehabilitated a 1908 house in the Franklin Park area. He volunteers with Franklin County's Restorative Justice Circles.
See the Byrd Center's full collection of Activities and Lessons. 
Learn more about Jason's ongoing projects of the Byrd Center's Education and Outreach Group.
Synergistic Activities
Build climate change, sustainability, and science education partnerships at The Ohio State University, within Columbus, and throughout Ohio
Collaborate with local teachers and university professors to improve geosciences education, focus on crosscutting concepts, and support the transition to the Common Core and Next Generation Science Standards
Organize programs and outreach activities for local schools, community organizations, and Ohio State students related to climate change, geosciences education, and work of the Byrd Polar and Climate Research Center
Coordinate undergraduate employees and high school interns at the Byrd Polar and Climate Research Center
Fulbright Exchange Teacher with the U.S. Department of State in Mumbai, India, 2010
People Filters: