January 14, 2021
The Antarctic Artists and Writers Collective launches its first online exhibition
Image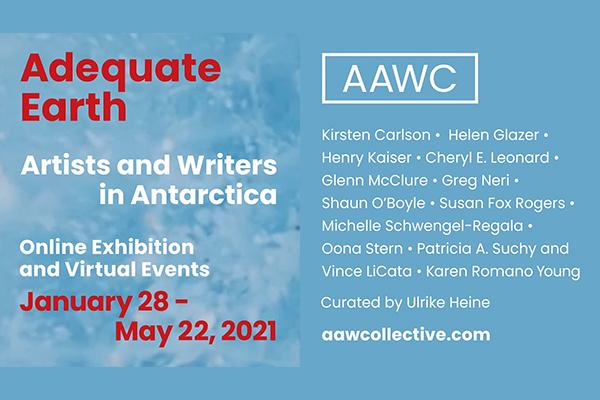 Description
Adequate Earth: Artists and Writers in Antarctica
Online Exhibition and Virtual Events, January 28 – May 22, 2021
aawcollective.com
 
On January 28, 2021, the Antarctic Artists and Writers Collective launches its first online exhibition, Adequate Earth: Artists and Writers in Antarctica, which features works by 13 former participants of the National Science Foundation's Antarctic Artists and Writers Program (AAWP). The exhibition runs through May 22, 2021, and will be accompanied by a series of eight virtual events.
 
Since the early 1980s, over 120 writers, visual artists, composers, and performers have been selected by the National Science Foundation to work alongside scientists at one of the three United States research stations in Antarctica. As participants of the Antarctic Artists and Writers Program, they gain firsthand experience of the only continent with no permanent inhabitants, often dubbed "the continent of science" for the variety of research projects undertaken there. Without the disruption of human activity, Antarctica acts as a natural laboratory, where geological, ecological, and climatic changes are observed through in-depth, long-term studies. Bringing their unique perspectives and diverse practices, the artists take inspiration from the history of Antarctic exploration, scientific discoveries, and the unique landscape, to create works in response to the continent's extreme and cognitively challenging environment. Many projects that started on "the Ice" and in the framework of the AAWP have continued to develop long after their authors' return from Antarctica and have encouraged far-reaching conversations about the meaning of the continent in the past, the present, and the future.
The full media kit is available at https://www.aawcollective.com/newsroom
---