January 13, 2023
The Surface Water and Ocean Topography (SWOT) Satellite to Collect Data on Over 90% of the Water on Earth's Surface
Image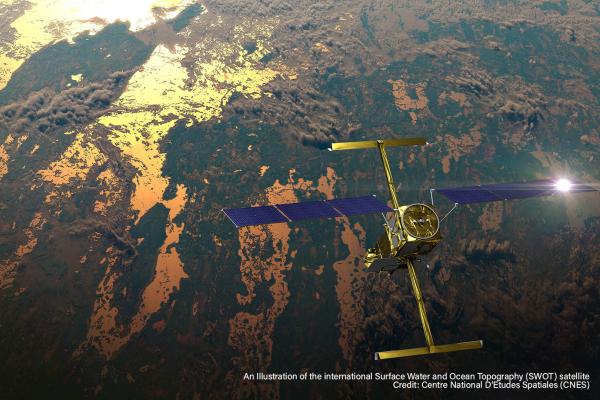 Description
On December 16, 2022, a SpaceX Falcon 9 rocket was launched into space from Vandenberg Space Force Base in California, carrying with it the Surface Water and Ocean Topography (SWOT) spacecraft onboard. Once separated from the rocket, the solar arrays that power the SWOT satellite were deployed, and the satellite was deemed to be operational. In approximately six months, SWOT will begin collecting data on the salt and fresh water on Earth's surface, covering between 78 degrees north and south at least once every 21 days.
In this joint mission, developed by the National Aeronautics and Space Administration (NASA) and Centre National D'Etudes Spatiales (CNES), with contributions from the Canadian Space Agency (CSA) and United Kingdom Space Agency, satellites will observe 90% of Earth's surface, measuring the height of water in the lakes, rivers, reservoirs, and the oceans. 
Michael Durand, professor at the School of Earth Sciences and a principal investigator at the Byrd Center, was a recipient of the NASA grant and a collaborator on this mission. Durand and his research group have coordinated the SWOT Discharge Algorithm Working Group for over ten years. They are leading the effort to map water flowing in rivers from SWOT measurements. Among Durand's group, Steve Coss, Byrd Center postdoctoral scholar, has worked to assemble discharge measurements from hydrological agencies around the world to compare to the SWOT discharge. Bidhyananda Yadav, research associate at the Byrd Center, is working on the project as well, helping to build visualization tools to support SWOT.
Through this mission, scientists hope to better understand the changing planet and the challenges humans face due to climate change.
To learn more about this and NASA's other missions, visit NASA's SWOT website.
This illustration to the right shows the SWOT satellite in orbit with sunlight glinting off one array of solar panels, as well as both KaRIn instrument antennas deployed. Credit: CNES. Full Image Details
News Filters:
---