November 30, 2017
BPCRC Award and Scholarship Ceremony
Image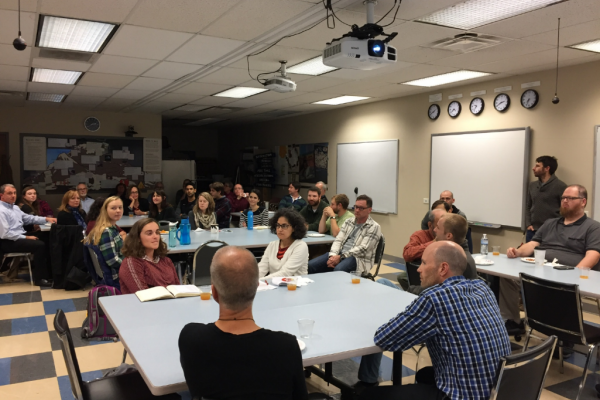 Description
On November 1st, BPCRC honored several scholarship and award winners with a special ceremony in Room 177.
The Garry McKenzie & Henry Brecher Undergraduate Scholarship winners and their theses were: 
Rebecca Anderson (School of Earth Sciences), Petrographic Analysis of Metamorphic Rocks from the Choshui River in Taiwan
Lillian Kleban (School of Earth Sciences), Dissolution Kinetics of Volcanic Ash in Sea Water
John-Morgan Manos (Department of Geography), Annual Surface Elevation of the Lehman Rock Glacier in Great Basin National Park
The Rick Toracinta Graduate Fellowship in Atmospheric Science was awarded to Geoffrey Dipre (School of Earth Sciences). Geoff is using this opportunity to present his research on reconstructing paleoceanographic conditions for the western Arctic Ocean dating back to the late Pliocene. 
Lynn Everett was awarded the Everett and Lay Service Award for her 38 years of outstanding dedication to the Center. The award was created to honor employees who promote fellowship within the Center and demonstrated dedication as a staff member.
Dr. Anne Grunow received a special award for her newly named peak in Antarctica! Grunow Peak, located at 86° 30' 41" S 158° 54' 44" W, was proposed by Dr. Terry Wilson at the U.S. Board on Geographic Names meeting on October 17, 2017. 
Finally, the first BPCRC Outreach Innovation Grant was awarded to Dr. Emilie Beaudon and Dr. Julien Nicolas. Their project, titled Mapping the Byrd Center's Research for Interactive Web Visualization and Discovery: Exploratory Phase, is a timely and innovative idea that will help communicate the Center's global research scope with the public.
News Filters:
---