August 1, 2018
Byrd Center Welcomes New Director
Image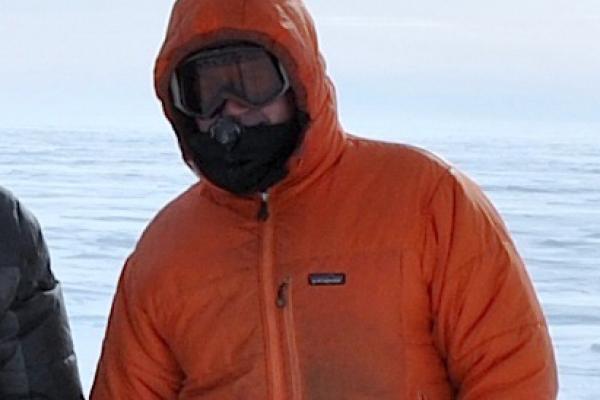 Description
.field-name-field-news-image{display:none}
Ian Howat (right) and Santiago de la Peña (left) conducting fieldwork in Greenland, 2014.
The Byrd Polar and Climate Research Center is excited to welcome Ian Howat as our new director.
The announcement was made by Randy Moses, at The Ohio State University Office of Research:
"I am pleased to announce that Ian Howat, professor in the School of Earth Sciences, has been named director of the Byrd Polar and Climate Research Center (BPCRC), effective July 1, 2018. BPCRC is internationally recognized as a leader in polar, alpine and climate research.
As director, Ian will further the center's mission to achieve research excellence, producing national and international contributions in understanding climate variability, detecting and interpreting changes in modern physical and biological systems, and predicting future environmental changes and their consequences for society. He will provide the strategic vision and leadership to strengthen and expand the scope of BPCRC's existing research programs, and work to facilitate interdisciplinary, collaborative activities within the center and across the university. He will also foster relationships with current funding agencies and explore additional opportunities for financial support of the center's programs.
Ian has gained a national and international reputation as a leader in the field of glaciology. He serves as chair of the Water, Climate and Environment Division within the School of Earth Sciences and leads the Glacier Dynamics Research Group at BPCRC. His research focuses on the dynamics of glaciers and ice sheets, using a wide range of observations from remote sensing, in situ data networks and field campaigns to constrain quantitative models of ice flow. He has led and participated in numerous science expeditions to Antarctica, Iceland and Greenland. His honors and awards include the 2017 Hyperion Research Innovation Excellence Award and a 2011 National Science Foundation Presidential Early Career Award for Scientists and Engineers. Ian received his BA from Hamilton College in New York and his PhD from the University of California, Santa Cruz. Ian joined Ohio State in 2008."
---