September 13, 2018
In the Field: Following Byrd Center Researchers
Image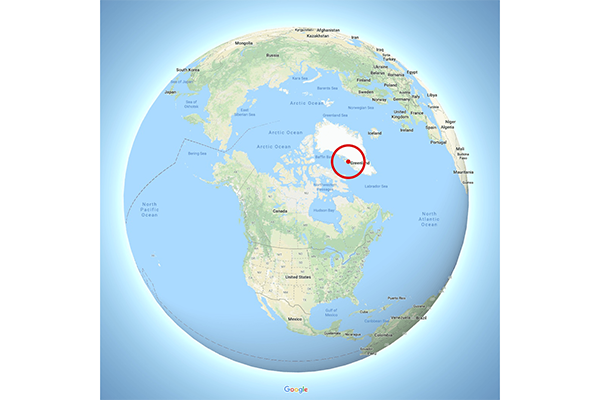 Advanced
Media

Text
Through 360° video, experience being part of a Nasa-funded Arctic expedition as Byrd Center researchers study Greenland's Jakobshavn Glacier.
Text
These videos were taken during the spring 2018 iteration of the NASA-funded project "Towards an Operational System for Estimating Greenland Ice Sheet Thickness Change from Altimetry", developed by Byrd Polar and Climate Research Center (Byrd Center) Principal Investigators Ian Howat and Santiago de la Peña. The field campaign included three team members: Santiago de la Peña and graduate students Michalea King and Sal Candela.
The team focused their efforts on installing and maintaining a suite of instrumentation at several meteorological stations located within the catchment of Greenland's largest glacier, Jakobshavn Isbrae. These instruments will be used to measure changes in the firn layer, and help better understand the evolution of snowfall as it accumulates, melts, and compacts on the ice sheet.
Text
Flying toward the Calving Front of Jakobshavn Glacier
Text
The team flies up the fjord toward the calving front of Jakobshavn glacier, on their way to their field site inland on the ice sheet. Icebergs surrounded by open water transition to mélange (a mixture of sea ice and ice bergs) as the aircraft approaches the front of the glacier. (Coordinates: 69.2N,-49.8E)
Media

Text
Looking out over Ilulissat Icefjord
Text
Near the town of Ilulissat in Western Greenland, 250 km north of the Actic Cirle, the team looks out over Ilulissat Icefjord. Giant icebergs produced by Sermeq Kujalleq glacier fill the bay. (Coordinates: 69.2N, -51.14E)
Media

Text
Investigating Russell Glacier
Text
After returning to the small town of Kangerlussuaq, Greenland to await their flight home, the science team hikes to nearby Russell Glacier, a land-terminating glacier seated approximately 25 km inland from the town. (Coordinates: 67.12°N, -50.17E)
Media

Text
Text

Text
The purchase of the GoPro Fusion cameras used to collect this amazing 360-degree footage was made possible by Ohio State Energy Partners. Thank you, Ohio State Energy Partners, for generously supporting Byrd Center research!
Text
Video collected by Michalea King and Salvatore Candela. Video rendering and graphic design by Pamela Theodotou and Michael Cicarella.
News Filters:
---