December 10, 2021
Ice sages
Image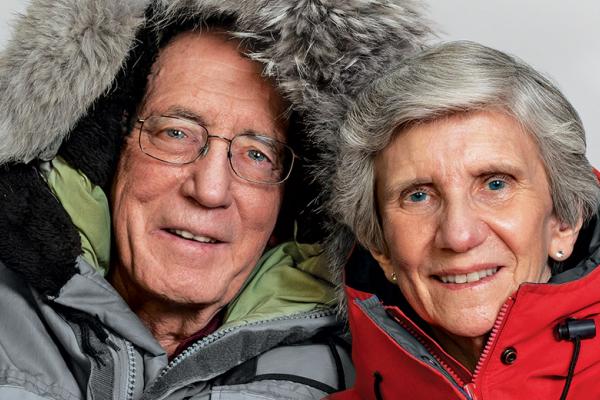 Description
Lonnie Thompson and Ellen Mosley-Thompson are two of the world's most revered paleoclimatologists, and their careers at Ohio State have grown in tandem with humans' understanding of climate change. Paramount for them now is ensuring future scientists are prepared for this vital work. 
Support this critical work
Ensuring future scientists are prepared to carry on work the Thompson's have dedicated their lives to is a priority for Byrd Climate and Polar Research Center. You can support high school, undergraduate and graduate students who aspire to help the world understand and adapt to climate change.
The Byrd Center freezer for ice cores has exhausted its capacity. You can help with the purchase of new freezer equipment to store ice cores gathered on future expeditions.
It was July 2019, and Lonnie Thompson, then 71, was leading a research team that drilled ice cores from the highest peak in the tropics and hauled down 471 meters of glacier ice. The team had spent nearly a month at more than 20,000 feet above sea level on the mountain Huascarán in Peru, where scant oxygen makes breathing difficult, where winds whip at high speeds, where snow falls year-round.
Thompson '73 MS, '76 PhD, a distinguished professor of earth sciences at Ohio State and senior research scientist at the university's Byrd Polar and Climate Research Center, had been leading expeditions to recover ice from the world's tropical glaciers for the past four decades in order to understand how the world's climate has changed over thousands of years. He understood the conditions, and he knew how to help his team manage them. They had traversed crevasses, skirted an avalanche and brought the ice to a refugio operated by priests partway up the mountain. They needed to get the ice the rest of the way down the mountain, then to Lima, where it would be placed in freezers aboard a cargo plane and flown to the United States.
But there was one more hurdle: The people who lived nearby were gathering. They were angry. Thompson and his crew did not fully understand their reasons, but one thing was clear: The crowd wanted Thompson and his team gone, and they wanted them gone now.
Read the full story in The Ohio State Alumni Magazine »
---
---