October 3, 2018
As Johnson's chair term ends, faculty and staff offer thanks
Image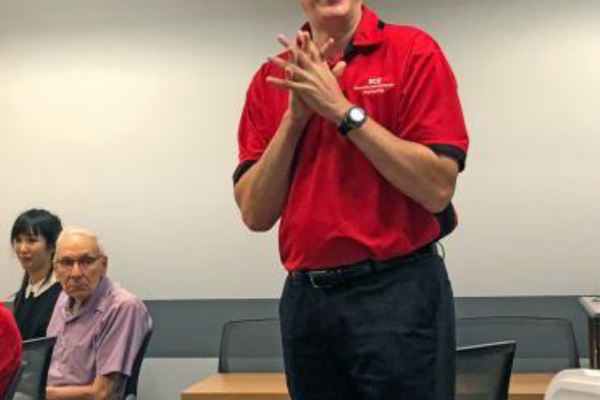 Description
After a four-year term leading The Ohio State University's Department of Electrical and Computer Engineering (ECE), staff and faculty thanked outgoing chair Joel Johnson for his steady guidance. 
Watch a short video of the event here.
ECE Associate Chair Betty Lise Anderson said Johnson worked hard for the department during his term. Newly-appointed chair Hesham El Gamal assumes the role in September.
"The thing about the collegiality of this department, that's one of things I'm most proud of," Anderson said. "It comes from the top."
She said the leadership of former chairs Yuan Zheng, Robert Lee and Johnson fostered this culture.
"So, don't screw it up," she joked to El Gamal.
Anderson praised Johnson for his demeanor as a chair and excellence as a faculty member. 
"Not only were you a great department chair, but you have all this great research going on," she said. "You make us look good. So, thank you, Joel, for everything you did for us."
Johnson said being a part of the ECE department and Ohio State has meant a lot to him since he was hired in 1996.
"We've got a great department," he said. "I love this place. That culture that we have of cooperation and supporting each other, both professionally and personally, that's who we are. It's been great working with all of you and getting to know you more"
Johnson said he knows this culture will remain unchanged under the leadership of El Gamal.
When he was first interviewed for a position at Ohio State, Johnson said he walked away impressed with the programs offered in radio frequency research at the ElectroScience Lab. However, he also noted something else.
"I was very impressed with how welcome I felt when I came and the collegial culture was very clear," Johnson said. "Everyone loved being here and loved what they were doing. That closed the deal for me, and I've been here ever since. It's been my privilege to be part of this department and it's been my privilege to serve as department chair over the last four years. Working together, we made a lot of progress."
Read the full article here:  https://ece.osu.edu/news/2018/08/johnsons-chair-term-ends-faculty-and-staff-offer-thanks
News Filters:
---