April 16, 2020
Ohio State accelerates Climate Action
Image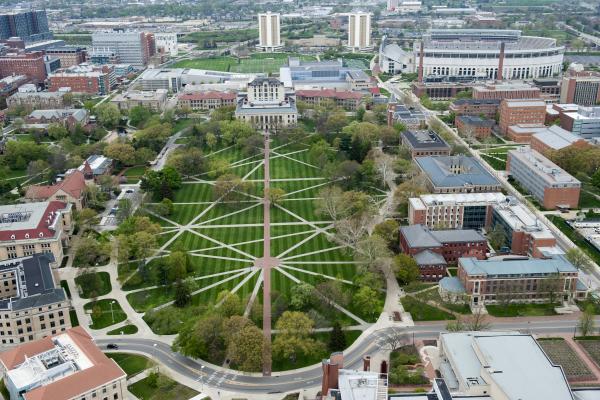 Description
.primary-button { box-sizing: border-box; border:2px solid rgb(187,0,0); } .primary-button a{ display:block; color:white; font-size:1.4rem; text-decoration:none; text-align:center;height:2.5rem; background-color:rgb(187,0,0); padding-top:1rem; } .primary-button a:hover { background-color:white; color:rgb(187,0,0); cursor: pointer; } #section-content .content .primary-button a:link{ border-bottom-width:0; }
University releases plan to reduce 55% of carbon emissions by 2030
This story originally appeared in Ohio State News on April 15, 2020.
The Ohio State University today released a plan to cut its carbon emissions in half within this decade. This accelerates the university's ability to achieve full carbon neutrality by 2050.
"Climate change presents a clear threat to communities across the globe," said President Michael V. Drake. "Ohio State is committed to take actions that advance scientific knowledge and social understanding, and model operational techniques that will propel new solutions to climate change."
In 2008, Ohio State established the goal to achieve carbon neutrality by 2050 through the Presidents' Climate Leadership Commitment. The university released its first Climate Action Plan in 2011.
The 2011 plan outlined actions the university could take to advance the carbon neutrality goal. As a result of those and other actions, through the 2019 fiscal year, the university decreased its carbon emissions by over 15% while still increasing the amount of built space by nearly 11%.
Advancing upon that success, the new Climate Action Plan released today outlines how the university could achieve full carbon neutrality by 2050. In particular, the new plan details how the university could reduce 55% of its current carbon emissions by 2030, including improving building energy efficiency, diversifying sources of energy and addressing transportation-related emissions.
Visit news.osu.edu to find out what some of the suggestions include!
You may also be interested in:
In 2018 a Columbus Climate Action Plan was released after The Byrd Center and State Climate Office of Ohio  helped guide its creation.
News Filters:
---