November 22, 2019
Polar Education Just Got Cooler
Image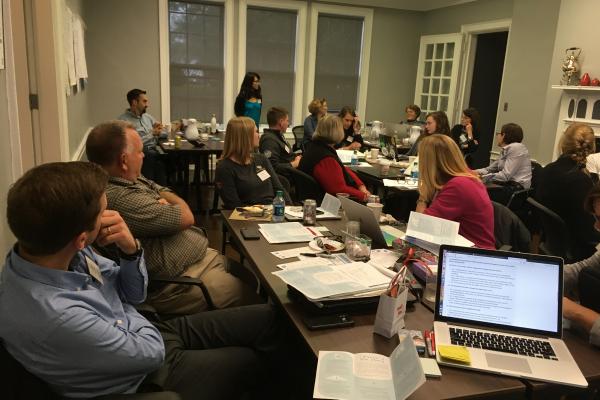 Description
The Education and Outreach Group of the Byrd Center at The Ohio State University will co-lead Polar Literacy: A Model for Youth Engagement and Learning, an NSF-funded Advancing Informal STEM Learning initiative to improve learning about Earth's polar regions. Students, informal educators, and scientists will be equipped with new tools to engage youth and families in understanding some of the most remote parts of our planet.
Polar Literacy will bring experiential learning about the poles to youth and building upon past successes of the collaborating institutions. Over the next three years, the project team will work to develop multiple educational programs, or 'kits', focused on themes from the Polar Literacy Principles. DataJams, that creatively explore and visualize real polar data, and customized video clips will be assembled for each of the kits. This project will focus on engaging out of school time youth, informal educators, and polar researchers through the 5E learning cycle  and place-based learning about local natural systems. The ultimate goal of the program is to build understanding and appreciation for the polar environments and the people who live and work in these environments.  
A diverse population of students will interact with researchers to learn about scientific processes, ask questions, and make connections to their own lives. In turn, researchers will have an opportunity to showcase their research, learn how to communicate their findings to a broad audience, and build relationships with the general public.
The materials will be collaboratively developed and extensively user tested. Knowledge gained will be applicable broadly to informal STEM (science, technology, engineering, and mathematics) education and more specifically to polar education. The project materials will be distributed through various education networks and offer a replicable model for scientist, including those early in their careers, to engage with youth and families.
The Byrd Center's efforts will be led by Jason Cervenec and Karina Peggau, with additional contributions from members of the array of research groups based within the center. Polar Literacy will build on the portfolio of outreach programs already offered by the Byrd Center that annual reach more than 11,00 individuals. In total, more than 30 polar scientists will be involved with development and delivery of the educational programs.
The educational materials will be showcased in various informal education settings, including afterschool and museum programs and summer camps in Ohio, New Jersey, Colorado, and Pennsylvania. Collaborators on the project include Camp Oty'Okwa and Franklin County Extension (Ohio); Essex, Mercer, and Monmouth County Extension (New Jersey); CU Science Discovery (Colorado); and The Franklin Institute (Pennsylvania). 
News Filters:
---