January 4, 2017
Researchers trace the origin of a 2015 iceberg to a crack that formed deep beneath the ice
Image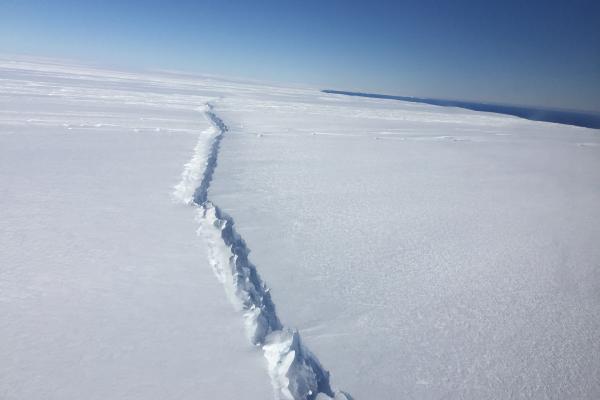 Description
A key glacier in Antarctica is breaking apart from the inside out, suggesting that the ocean is weakening ice on the edges of the continent. The Pine Island Glacier, part of the ice shelf that bounds the West Antarctic Ice Sheet, is one of two glaciers that researchers believe are most likely to undergo rapid retreat, bringing more ice from the interior of the ice sheet to the ocean, where its melting would flood coastlines around the world.
A nearly 225-square-mile iceberg broke off from the glacier in 2015, but it wasn't until Ohio State University researchers were testing some new image-processing software that they noticed something strange in satellite images taken before the event. In the images, they saw evidence that a rift formed at the very base of the ice shelf nearly 20 miles inland in 2013. The rift propagated upward over two years, until it broke through the ice surface and set the iceberg adrift over 12 days in late July and early August 2015. They report their discovery in the journal Geophysical Research Letters.
"It's generally accepted that it's no longer a question of whether the West Antarctic Ice Sheet will melt, it's a question of when," said study leader Ian Howat, associate professor of earth sciences at Ohio State. "This kind of rifting behavior provides another mechanism for rapid retreat of these glaciers, adding to the probability that we may see significant collapse of West Antarctica in our lifetimes."
While this is the first time researchers have witnessed a deep subsurface rift opening within Antarctic ice, they have seen similar breakups in the Greenland Ice Sheet—in spots where ocean water has seeped inland along the bedrock and begun to melt the ice from underneath.
Read the complete article by Pam Frost Gorder at https://news.osu.edu/news/2016/11/28/pineisland/.
Photo credit NASA/Nathan Kurtz.
News Filters:
---