May 18, 2023
Three Selected as 2023 Distinguished University Professors
Image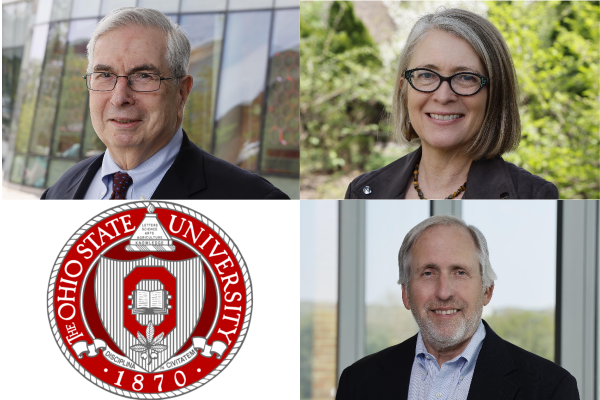 Description
This spring, three faculty members were honored as Distinguished University Professors. Each year, The Ohio State University awards this permanent honorific title to no more than three tenure-track professors who have been with the University at least five years and who have exceptional records in teaching, research, scholarly or creative work and in service. This honor includes membership in the President's and Provost's Advisory Committee and a $30,000 one-time grant to support their academic work. This year, the recipients are Stuart L. Cooper, Elena G. Irwin, and Stanley Lemeshow.
Dr. Cooper is in the College of Engineering's William G. Lowrie Department of Chemical and Biomolecular Engineering. He is a pioneer of the biomaterials field recognized worldwide for his groundbreaking research on the interactions of polymeric materials with physiological fluids and tissues as well as his early work integrating chemical and biomedical engineering to the advancement of polymer blood compatibility and biocompatibility.
Dr. Irwin is in the Department of Agricultural, Environmental, and Development Economics at the College of Food, Agricultural, and Environmental Sciences. She is also co-founder and Faculty Director of the Sustainability Institute and leads research on the sustainability of human-natural systems at local and regional scales, focusing on land use and ecosystem services across urban and rural areas. She has served on multiple national research committees and advisory boards.
Dr. Lemeshow is in the College of Public Health's Division of Biostatistics. His biomedical research includes statistical modeling of medical data, sampling, health disparities and cancer prevention. During the COVID-19 pandemic, Lemeshow was instrumental to the state of Ohio on three separate projects which each immediately impacted policy and planning at a time of unprecedented need.
Advanced
News Filters:
---