July 9, 2021
Virtual Tours Through the Ice Using Everyday Tools
Image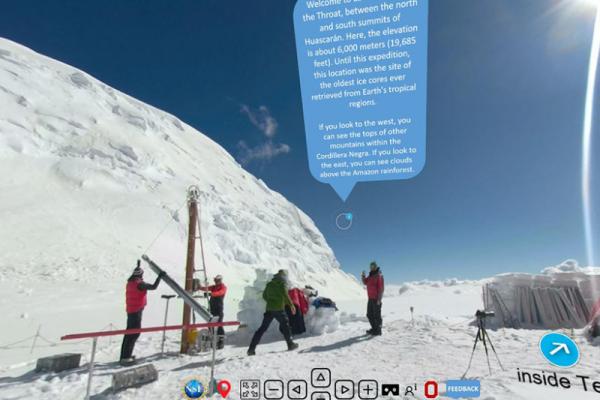 Description
The Byrd Center's Education and Outreach team is training scientists to create immersive virtual field experiences of glaciers, sea ice, and snow.
Advanced
Text
By Kira Harris, Kasey Krok, Ryan Hollister, and Jason Cervenec  9 July 2021
You know you are on to something special when researchers who have traveled to and experienced the wonder of some of the most remote places on Earth are captivated by a tool that takes them there virtually.
Earth's cryosphere, including its ice sheets, ice caps, glaciers, and sea ice, is undergoing stark changes as air temperatures continue to rise. Scientists who study these regions understand viscerally the scale and scope of these changes, but they encounter limitations in communicating their experiences and observations to the public. Digital learning tools and online scientific data repositories have greatly expanded over the past decade, but there are still few ways for the public to explore rapidly changing icy environments through a realistic platform that provides contextual information, supplemental media, and connections to data sets.
The Virtual Ice Explorer (VIE) aims to bring the public closer to these important places. Developed by the Education and Outreach (E&O) team at the Byrd Polar and Climate Research Center, VIE encourages informal learning about icy environments by immersing visitors in "choose your own adventure" tours. Click on the globe on the home page and head to, for example, the Multidisciplinary Drifting Observatory for the Study of Arctic Climate (MOSAiC) expedition that intentionally froze its ship into Arctic sea ice for a year of observations last year. You'll land on the deck of the icebreaker R/V Polarsternoverlooking the ice camp—no long voyage required. Next, you can visit scientists in action, sampling Arctic waters up to 1,000 meters below the ocean surface through a hole drilled in the ice. Or maybe you'd like to see how researchers spend their off hours with a little snow soccer. These options offer visitors a glimpse into the daily lives of scientists in the field as they fill in the blanks about what researchers study in these extraordinary locations and why it matters to our understanding of the planet.
---